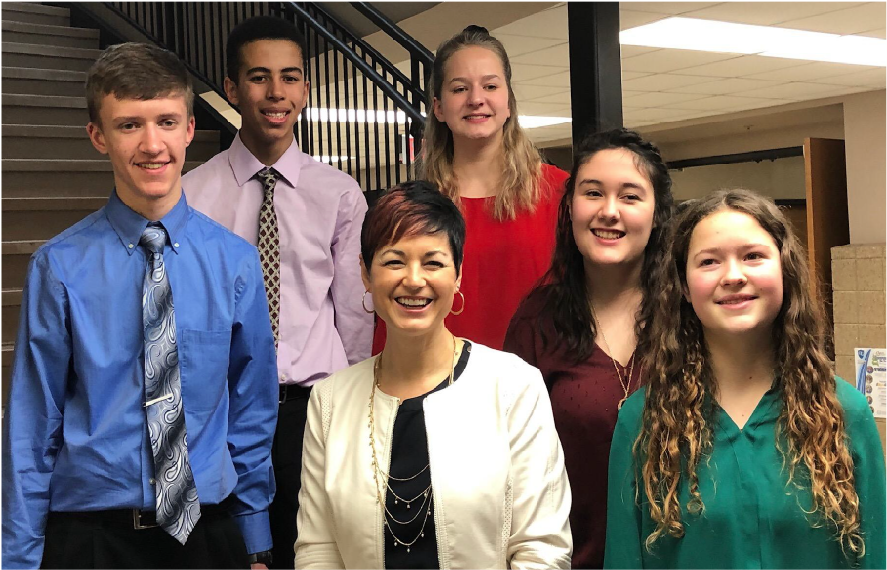 On any given day, you can find the beautiful sound of music filling the campus, floating out windows from our Music Hall, or the four part harmony comes from our Chapel as the students body participate with the hymns and Christian music they have come to know and love.
Our choral department has an amazing talent to find each student's love of music and to fine-tune their unique sound.
The sound coming from these young adults continues to impress listeners as it challenges perceptions. 
How wonderful to observe students as they see their director smiling in appreciation at the end of the song, and for them to realize their own exceptional accomplishment.
Batman's theme song echoed through the gym.  A familiar melody from Pirates of the Caribbean haunted the Administration Building and Pachelbel's Canon in D floated through Music Hall. All were strummed on the sweet strings of little ukuleles for mini concerts by Amy Hofer Vetch's students. The onset of COVID-19 inspired her to take choir classes in a new direction.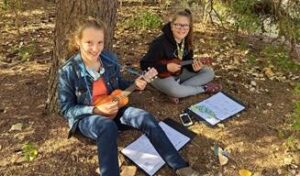 "The ukuleles are a smash," she said, "especially when we practiced outside and students worked at their own pace. Most students really enjoyed it."
Hofer Vetch outfitted her high school Ukulele Class and middle school students with 28 ukuleles donated by Modern Woodmen of America representative Shane Vetch.
"The challenging part was getting the timing right in our ensemble," said senior Gabe Miller. "It was great to have that relaxing class at the end of the day."
Miller's classmates choose the challenging songs above to teach their peers. Junior high students choose from 50 songs to learn chording concepts, strumming patterns, and tablature, a form of musical notation for fingering. For social distancing, classes moved from the choir room to the gym so Hofer Vetch capitalized on the big space by adding movement and marching to elementary classes and line dancing for high school.
Research from national music organizations also recommended choirs only sing 30 minutes with masks on which made diction and projection a challenge.
"Singing in choir is so much about camaraderie and you lose some of that when you are spaced apart in the gym. When I finally put the high school students up on the risers to record, they went into performance mode and really came together well. The excitement of dressing up and using special lighting, creates a different energy level."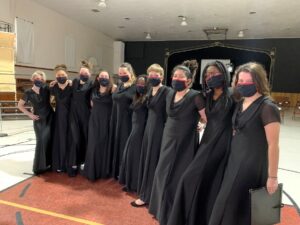 While families hoped to attend a simplified Yuletide celebration, a week of remote learning necessitated recording the event. Despite it all, Hofer Vetch says students persevered. "The students were great. I'm proud of them for their flexibility and willingness to work through new challenges. These are some of life's greatest lessons."