Nathan currently serves as the Head of School at Freeman Academy.  He is a Freeman native and graduated from Freeman Academy. After high school, he went to Bethel College in North Newton, KS and graduated with majors in Biology and German. After college, Nathan taught and coached multiple sports in Kansas for 10 years. In 2003, he and his family returned to Freeman where Nathan was an administrator, teacher and coach at Freeman Academy until 2011. After 4 years of coaching the men's and women's soccer teams at Mount Marty College in Yankton, SD he returned back to Freeman Academy.  Nathan is married to Sheila (Peters) and they have two children, Kaitlyn age 17 and Connor age 13. Both Kaitlyn and Connor are students at Freeman Academy.
In his spare time, Nathan enjoys working on the family farm and going to his kids' activities.
Lynnelle Allison is the Enrollment Director and International Student Coordinator for Freeman Academy. She considers Freeman Academy an educational gem shining in southeast South Dakota and she enjoys introducing new families to campus. The Allison family moved to the Freeman area when their oldest son Dane enrolled as a freshman at Freeman Academy. "During Dane's first year we became part of the Academy family and we experienced this nurturing environment. The next year we decided to quit homeschooling and send all of our children to the Academy. Now I work at the school and it's just natural to share what we experienced with interested families."
Mrs. Allison graduated with a business marketing degree from Hastings College in Hastings, Nebraska. Her master's degree in broadcasting is from the University of Missouri at Columbia. Her past positions include magazine editor, television news producer, and radio announcer.
The Allison family has traveled extensively for medical ministry including a year in Ecuador where Lynnelle taught at a mission school and her husband Jay served at a jungle-side hospital. Their sons Dane and Luke have served in Africa and Nepal with summer ministries. Knowledge from these experiences helps Lynnelle counsel the international students regarding their educational choices and their VISA paperwork.
Allisons live near Hurley, SD, and attend Calvary Reformed Church in Monroe, SD, where Lynnelle and Jay help with the prayer and mission ministry.
Lynnelle enjoys gardening, decorating, and spending time with her family outdoors or indoors by the fireplace.
Brad Anderson
Brad (Braden) Anderson is the teacher for high school Bible and Social Studies, and he also serves as Assistant Head of School. Brad grew up in Wichita (KS), where he graduated from a magnet high school focused on law, public, and social service, on the ninth floor of the Wichita City Hall building. He later graduated from Wichita State University, where he met his wife, Elizabeth, in InterVarsity Christian Fellowship. 
Brad went on to pursue master's degrees in Political Science and Theology, as well as a PhD in Religious Studies from Marquette University. He has published on the relationship between religion and politics, and specifically on nationalism as a challenge to faithful Christian political discipleship. Brad has taught and administered programs at the college level, and he has also worked professionally with nonprofit program management and research, quality assurance management, and K-12 school accreditation.
Brad and Elizabeth have a son and daughter who attend Freeman Academy, and a young daughter at home. The Andersons are active at Salem Mennonite Church in the Freeman area.
Ben Bengston
Ben Bengston is the IT director at Freeman Academy. He grew up in Littleton, Iowa and graduated from Jesup High School in 2005.  He graduated from Hawkeye Community College in 2007 with an Associate's Degree in Natural Resource Management and graduated from the Information Technology program in 2009 with an A+ certification through CompTIA. Ben moved to Freeman in 2010 and married Sophie Nash in 2011. Ben and Sophie have two children, Emily and Rachel. Ben has operated Freeman Computer Repair since 2010. Ben enjoys history, the outdoors, and spending time with his family.
Cindy was born and raised in Freeman, SD. She attended Freeman Academy and Freeman Junior College from 1969 – 1975 and graduated from Sioux Falls College (University of Sioux Falls) in 1977 with an Early Childhood and Elementary Ed. degree.
In May of 1977, Cindy married David B. Graber. Shortly thereafter, they did voluntary service for three years with Mennonite Central Committee in northeast Brazil where Cindy taught classes in health and worked with the rural school teachers.
The Grabers have four children: Elliott lives in Minneapolis where he composes music, produces shows and acts in theater. Michael is working on his Masters in Violin Performance at Texas Tech University. Twin daughters Ashley and Audrey are both teachers.  Ashley is an elementary teacher in Rapid City and Audrey teaches Spanish in Beresford.
Cindy's hobbies include reading, costuming for plays and musicals and seeing her children perform. She also enjoys harvesting grapes from their two-acre vineyard each fall.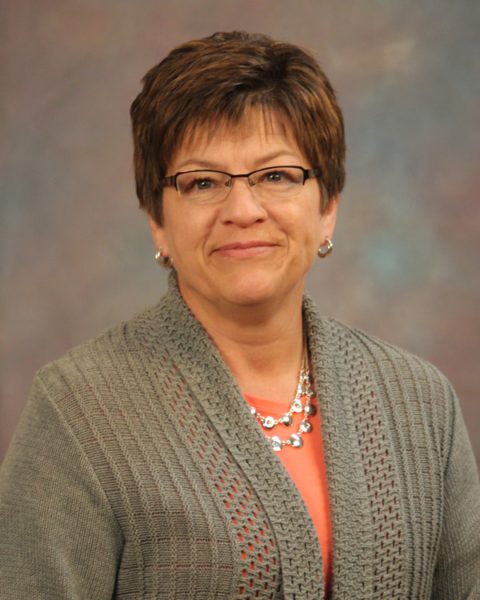 Judy Graber
Judy was born and raised in NW Iowa graduating from Little Rock High School in 1980 and then came to Freeman  to get a 2 year business degree from FJC ('82). She is married to Linden Graber (FA'81, FJC'83) and they live on the home farm NE of Freeman.  He is full time boss of his own construction business. They have 2 children.  Lawson lives in SFalls and is kitchen manager of Ruby Tuesdays.  Lexi  lives in Mt. Lake, MN with her husband Carson. She is in health services  and Carson teaches 7-12 vocal music at the high school.
 Any spare time that might be had, Judy likes to walk outside, bike, read and enjoys watching college sports.  She is the office receptionist and enjoys the interaction with staff, teachers and the students.
Lynelle Yoder Hofer
Lynelle grew up in Goshen, IN, where she graduated from Bethany Christian Schools and then Goshen College. She has a BA in Elementary Education (K-6) with minors in Spanish and TESOL (K-6). She has taught for four years: a year as special education teacher in Bloomington, IN; a year as first-grade Spanish immersion teacher in Minnetonka, MN; and now two years as kindergarten teacher at Rosa Parks Elementary in Sioux Falls. Lynelle and her husband Josh Hofer recently moved to Freeman. Given her positive experiences in church schools, she is excited at the prospect of teaching grades 4, 5 and 6 at FA. Lynelle and Josh worship at Salem-Zion (North) Church.
Jill was born and raised in Manitoba, Canada. She graduated HS from Mennonite Collegiate Institute, Gretna, Manitoba. She has since completed two Associate degrees from SouthEast Tech in Sioux Falls in Landscape design and Horticulture. She is currently pursuing her MDiv through Anabaptist Mennonite Biblical Seminary, with an emphasis on Chaplaincy. She lives near Freeman with her farmer-husband Stan and has two adult sons, Cole & Ian. Jill is a member of Hutterthal Mennonite Church of Rural Freeman.
Jill works in the FA business office as administrative assistant to Nathan Epp. Jill is also actively involved in the FA fall musical production. In her spare time, Jill enjoys cooking & food, gardening, golf, making music and sitting around a campfire with friends and family.
Suzanne Koerner & Diane Petts
Suzanne Koerner will be the food service director during the coming school year. Suzanne has coached cross country and track here and has been actively involved in Schmeckfest food service. Suzanne and her husband Todd are active members of Hutterthal Mennonite Church.
Diane Petts will work with Suzanne in the kitchen on a part time basis this year. She is a Pastor's wife and she and her husband, Mike, serve the Salem Mennonite Brethren Church. They have four children: Katie-23, Andrew- 21, Christopher- 19, and Rachael, who is 17 and a senior at the Freeman Public School.
Joe Mason teaches art and computer technology at Freeman Academy.  He is a graduate of Grand View College with a B. A. in Visual Art, and Drake University with a M.A.T. in Art Education; both schools are in Des Moines, Iowa.  He also obtained a B.A. in Pastoral Theology from Faith Baptist Bible College in Ankeny, Iowa and pastors a small congregation in Yankton at Kingsway Christian Church.
Gwen Ortman 
Gwen was born in Nebraska, but grew up in Camp Verde, Arizona.  After graduating from Camp Verde High School, Gwen came to Freeman Jr. College (FJC) where she earned an AA degree in Early Childhood Education.  She met her husband, Stan Ortman, at FJC, and they were married in 1979.
Gwen and Stan have three grown children:  Caley, Lindsey, and Kelsey. When the children were small, the family spent three years with Mennonite Central Committee (MCC), working with water development in Tanzania, Africa (1992-1995).  After returning to the US, Gwen went back to school at the University of Sioux Falls to get her BA in Secondary English Education.
After graduating from the University of Sioux Falls in 2004, she taught English, math, Bible, and science to the 7th/8th grades at Freeman Academy.  Two years later, she moved up to the high school where she now teaches English to grades 7-12, as well as a theater and a film appreciation class.  Gwen is the One Act coach and occasionally directs the fall play.
Gwen enjoys reading, traveling with Stan, watching movies with the family, drinking coffee with friends, and babysitting her grandson. 
Kelsey grew up on a farm east of Freeman and attended Freeman Academy. She then moved south to Kansas and graduated from Bethel College in 2012 with a degree in History and English. After completing college, Kelsey spent a year serving with Mennonite Central Committee in Chad, Africa. She taught English in an orphanage school and developed a love for teaching. Once she returned, Kelsey worked part time with the international students at Freeman Academy, and spent the other half of her day as the administrator at Heritage Hall Museum and Archives. Now Kelsey is Freeman Academy's full-time resource person. She is currently getting her Masters in Teaching from the University of Sioux Falls. When she is not at a school, she enjoys reading, traveling, playing volleyball, singing, and being outside.
Donna Ries
Donna Ries grew up in rural northwest Ohio near Findlay and graduated from Hardin Northern High School in Dola, Ohio.  After high school, she attended Bluffton College, Bluffton, Ohio where she graduated with a degree in music.  Mrs. Ries is certified to teach vocal and instrumental music for grades K-12. Mrs. Ries is currently the Instrumental Director for grades 5-12 and also teaches Music Theory I at Freeman Academy.
In 1982, Mrs. Ries moved to Sioux Falls where she taught elementary vocal music for five years before marrying Duane Ries and moving to the family farm near Freeman.  Duane and Donna have three adult daughters: Breanna, a nurse in Goshen, Indiana; Brittney, an elementary music teacher in Sioux Falls and Brooklyn, a Goshen College senior studying nursing.
Mrs. Ries is a member of Salem Mennonite Church in rural Freeman where she directs the chancel and handbell choirs and sings in the ladies' ensemble.  She enjoys playing trumpet, traveling, collecting antiques, gardening, fishing and spending time with family.
Karla Rupp 
Karla Rupp was born in Karlsrhue, Germany.  She was raised on a farm outside of Springfield, SD.  After graduating from Bon Homme High School in 1990, she studied at Northern State University and received a Bachelor of Science Degree in Elementary Education with an Early Childhood /Kindergarten endorsement.  In 1994, she married her high school sweetheart, Wade Rupp and they resided in Aberdeen while completing their undergrad and graduate degrees.  In 1998, Karla finished her Master of Science Degree in Classroom Teaching and Elementary Administration along with a Middle School endorsement.
Karla's first teaching job was as a Kindergarten teacher in Warner, SD, where she taught for three years before giving birth to their first child, Tanner.  In 1998, the family moved to Armour, SD where Karla owned and operated Little Tykes Daycare.  In 2001, their second son, Kade, was born and the family moved to Parkston, SD, where Karla continued to provide daycare until 2007.  In 2007, she was hired by the Freeman Public School District to teach First Grade.  The family embarked on an adventure to build a new house in rural Freeman and was glad to finally move in 2010, even though it was in the middle of a blizzard!
In 2013, Karla joined the Freeman Academy family where she currently is the classroom teacher for grades 1-3.  In her spare time she likes to enjoy outdoor activities with her family, such as camping, biking, and golfing.
Karen Schultz 
Karen Schultz grew up in the small town of Kaylor and graduated from Scotland High School. Shortly after this she married her high school sweetheart, Stewart Schultz and together they attended Lake Area Technical Institute for Computer Technology/Accounting in Watertown, SD. After several years working as a Computer Operator at Morrell's, Karen followed her husband back home to the family farm located eight miles straight south of Freeman, where she still lives today.
Karen has had several career changes since then, including Production Controller and Inventory Controller at Portec/Kolberg, Yankton and Office Manger at Country Pride, Menno. She did take a break and stay home a few years to help on the family's dairy farm while her children were young. Karen has three daughters: Chelsea is a nurse at the Human Services Center in Yankton and is married to George Summerside; Carissa recently graduated from Mount Marty College and is now employed at First Dakota Bank in Yankton; and youngest daughter Chandra is the 7th-8th language arts, social science and Bible teacher at Freeman Academy.
Karen is a member of the Peace Christian Reformed Church in Menno and has been active in teaching, singing in choir, serving as Sunday School superintendant, librarian and attending bible study. In her free time you can find her enjoying a good book, golfing, cooking, gardening and spending time with family and friends. After the arrival of her first granddaughter in November, Karen expects to keep busy traveling to and from Yankton!
Carol Stastny
Carol Stastny is returning to Freeman Academy having previously taught the sciences here from 1998 through 2002. For the past 15 years, Carol has lived in Rapid City where she currently works for General Electric as a supervisor in their call center. Carol kept her teacher's license current because of her sense that she'd like to get back into the classroom at some point. Carol is actively involved in an evangelical congregation in Rapid City. She says that her previous stint at Freeman Academy significantly shaped her spirituality and she looks forward to returning to this setting.
Austin Unruh
Austin will take on the role of Athletic Director for Freeman Academy. He was born and raised in the wheat fields of Goessel, KS where he attended Alexanderwohl Mennonite Church in rural Goessel. He graduated from Bethel College in 2013 with a degree in Mathematics and a minor in Business. He is a lifelong athlete and musician. He joined the Freeman community in January of 2014 with wife Lindsey (Ortman, FA 2006). He and Lindsey attend Salem-Zion Mennonite Church, where he is active playing piano, singing, and going on adventures with the high school youth.
He has been the head boys basketball coach for the Bobcats and Bearcats the last two seasons and looks forward to an exciting year ahead as we build a successful program! He farms alongside Stan and Will Ortman, where most of his time is spent caring for his herd of cows and raising grass-fed beef for local markets and private sale.
Amy Hofer Vetch 
Amy Hofer Vetch, a native of Freeman, teaches Vocal music (grades 1-12), Humanities and Music Theory II at Freeman Academy. She received her collegiate degrees in Social Work and Music Education from the University of Sioux Falls, Sioux Falls, SD.  In addition to her teaching courses, Ms. Hofer Vetch serves as the Creative Arts Coordinator and the AdvancED (school improvement) coordinator for Freeman Academy.  Ms. Hofer Vetch is an active member in professional organizations such as NAFME (National Association for Music Education) and ACDA (American Choral Directors Association).  She will serve as President-Elect for the SD-ACDA during the upcoming year. She also serves as the chairperson for the MSC (Mennonite Schools Council) Choral directors.
Ms. Hofer Vetch and her husband, Shane, reside in Freeman. Morgan, her step-daughter, is in her third year of college.  They continue to honor her step-son's memory through the Jackson Lee Vetch memorial fund that sponsors kids to attend Christian camp.
Amy is a member of the Hutterthal Mennonite church where she serves as one of the pianists for services and leads a women's choir.  Traveling, cooking, reading and yoga are just a few things Ms. Hofer Vetch enjoys.
Craig Wollman 
Craig Wollman graduated from Menno High School in 1982. He received an AA in agriculture from FJC in 1984 and a BA in mathematics from Tabor College in 1987. From 1988 to 1992, Craig taught at Tabor College and Bethel College. He then taught at Omaha Christian Academy in Omaha, NE from 1992 to 2006. Since 2006 Craig has been the Mathematics instructor at Freeman Academy.
Craig and his wife Lois (Epp) Wollman have two daughters, Bethany, a junior at North Central University in Minneapolis, and Andrea, a senior at FA.  Craig enjoys living on the small farm he grew up on north of Menno and managing his cow/calf herd. Personal hobbies and interests include photography, college football, and playing worship music (especially playing guitar, bass guitar, drums, and harmonica).  He directs the chapel worship team at Freeman Academy and  coaches middle school volleyball.