Faith & Leadership Scholarship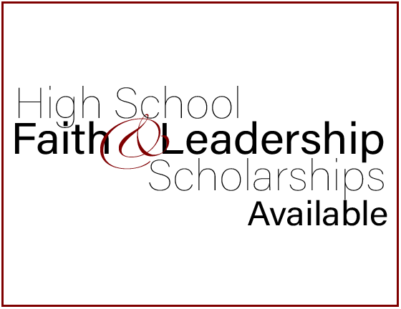 Open to new students in grades 9-12. Recipients will receive 40% off
the regular high school tuition rate (all 4 years) and
a scholarship to attend summer leadership training through their denomination or an approved regional or national program. 
Applicants must be new students who have a GPA of 3.5 or higher,
and who wish to develop their leadership skills
through contributions to the school. 
An interview and essay are required. 
Two scholarships can be given each year. 

Faith and Leadership Scholarship Guidelines
Applicant Requirements:
High school students who currently do not attend FA and will enter grades 9 through 12 in the next school year.

A current GPA of 3.5 or above for students in high school; students who will enter grade 9 will be evaluated based on middle school grades; homeschool students will be evaluated on grades, course content, and course work/testing.

Excellent character, proactive towards faith growth, strong communication skills, a service orientation, and a desire to be an active participant in our school community.     

Demonstrated leadership in student's current school, congregation, and/or community organization.

Current participation in a co-curricular and/or extra-curricular activity such as athletics, drama, music, band, etc.
Recipient Requirements
Maintain a 3.5 GPA each year.

Hold leadership positions on campus or intern with or shadow professionals in the community.
Campus examples: student Bible study leader or assistant, praise band member, stage manager for drama or music events, class officers, coordinator for special events.
Community shadowing examples: managers, small business owners, church leadership (pastoral, youth group, VBS leader), Christian camp director, medical positions, engineers, marketing positions, non-profit ministry directors, etc. When practical, shadowing may be arranged for communities other than Freeman.

Share leadership experiences with an appropriate class or in chapel.

Leadership Training Options:
– Attend one regional or national leadership camp or conference. The scholarship will cover registration for this event. National conferences for the student's denomination are options. The event chosen must be approved by Freeman Academy.
– Serve as a camp counselor at a Christian camp. The scholarship becomes a stipend for one week of service.
How to Apply
Complete our high school application. 
Additional documents will be required for the winner(s) including references and school transcripts.  

Submit an essay to Lynnelle Allison, Enrollment Director (lallison@freemanacademy.org). 
Choose one of the following prompts (no more than 250 words):

How does a positive attitude play a role in leadership? Describe a leader you know who has responded to a challenge in a positive way.

Who is a leader you admire? Describe a person you know or someone you would like to know. How does he or she inspire you?

Are leaders born with leadership qualities or are those skills developed?

Describe a global or local issue you feel passionately about, and explain how you could lead others to follow your cause.
Schedule a personal interview 
Enrollment Director Lynnelle Allison can be reached by calling 605-925-4237 or email: lallison@freemanacademy.org.

Finalists will be contacted for a personal interview with Freeman Academy administration