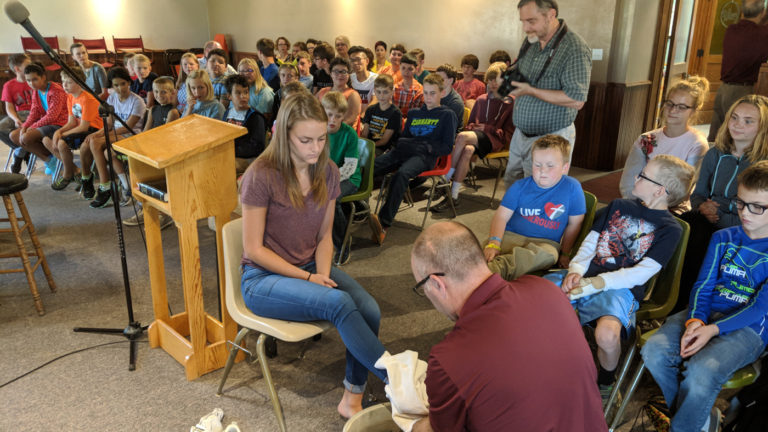 Portraying servant hood, head of school Nathan Epp washed the feet of senior Emily Heeg at the first chapel.
Chapel was especially quiet. Students watched silently, wondering why Head of School Nathan Epp was taking off senior Emily Heeg's shoes. Then he washed each foot. Silence continued. Kids in the back row shifted to get a better look. He had their attention.  
"We are called to be different," he said. "Like Jesus."
Epp went on to explain why Jesus washed the apostle's feet in John 13.
"In Jesus day, people walked long distances in sandals through dirt and dust. Subsequently, a servant would wash guests' feet when they arrived at a friend's home," he said. 
"The apostles would have been appalled by the thought of God's son doing this lowly job but this is the attitude we all need to have – an attitude of serving others. That brings me to our theme verse for this year, Romans 12:10:
Be devoted to one another in love. Honor one another above yourselves.
"Our modern society does not typically value putting others above ourselves. Being devoted and honoring others is different," Epp concluded, "I challenge you all to discover ways where we can honor others here at Freeman Academy."