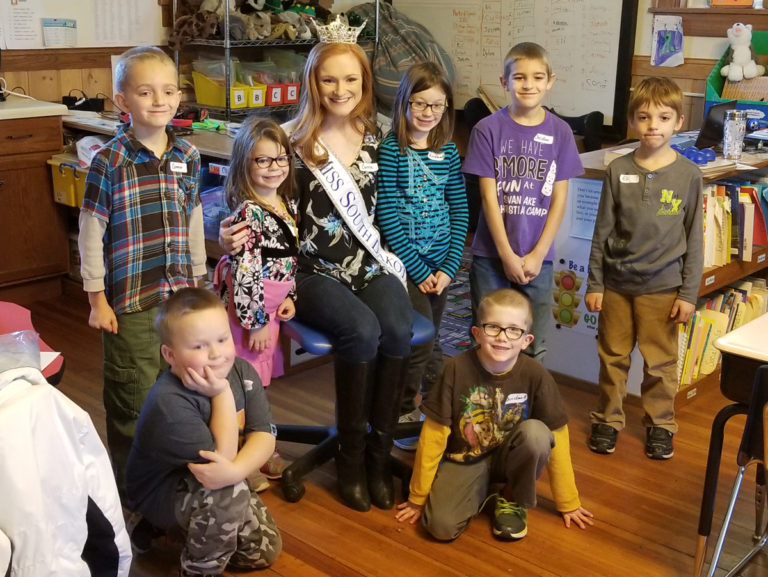 The relationship between Carrie Wintle, Miss SD 2018, and the Freeman Academy 1-3 students began last school year.  Wintle, an accounting graduate of USD and Vanderbilt University, contacted schools across South Dakota and offered to donate a copy of her book, Mr. Money Sheep.  Carrie decided to use the experiences from her youth of raising sheep and participating in 4-H, to write a book focused on teaching elementary students about the basics of money management.
Freeman Academy 1-3 students used the financial principles they learned from the book alongside their aluminum can recycling project, which has extended across two school years.  Learning to budget their income helped the students recently donate funds to the upcoming Salem Home building project.  Another school – community connection related to Wintle's book donation, is the sponsorship to the Mr. Money Sheep foundation from two local Freeman banks:  Merchant's State Bank and Great Western Bank.
While visiting the Freeman Academy 1-3 classroom on Monday, Nov 12th, Ms. Wintle:
1.   Read the story, Berenstain Bear's Trouble With Money, and discussed the bears' decisions with money,
2.   Played her new financial literacy game, "Mutton Bustin," 
3.   Answered student interview questions,
4.   Accompanied the class on a tour of Merchant's State Bank,
5.   Ate lunch,
6.  Signed autographs, and
7.   Played the piano piece that she used for the talent competition during her involvement in Miss America 2018.
___________________________________________________________________________________________________________________________
"We believe the academic success of Freeman Academy's 1st-3th program is one of its best kept secrets. Teachers don't teach 'a' subject or 'a' method.  Their thorough understanding of the educational process allows them to explore and adapt their teaching to meet the needs of individual students.  A blend of traditional instruction and project-based learning gives students a superior academic foundation as shown in the STAR testing scores which place students consistently beyond grade level." Sherilyn O, elementary parent of 3 students.
"We enrolled Noah at FA hoping for individualized learning.  He gained that and so much more!  The staff strives to uncover each student's unique skill set then encourages them to go further with it and branch to new activities…. We are sincerely grateful for Noah's scholastic achievement at FA and also for the diverse opportunities presented to him by a staff so fully invested in their students." Heather H, junior high parent.
"All of the teachers hold everyone to the highest standards which encourages me to do my best in everything I do."   Thomas, high school student.
"The academics at FA are rigorous and varied.  Not only do the teachers expect a significant amount of work from the students, but they also utilize a variety of assignment styles.  Students complete typical reading and worksheets in addition to power point presentations, experiments and hands-on projects."  Lois W, parent of one high school student and one graduate.
FREEMAN ACADEMY   ACCREDITATION
"What a blessing Freeman Academy is to our family. When I was told about the standards this school has, I thought, 'We'll see,' but now we've experienced it. My child's test scores in math and reading are way above the state average. She has great friends and she has the freedom to pray. It is well worth the time, money and effort to send her to this great school."  
~ Third-year Parent
"Freeman Academy provides a great family community that pushes me to be the best I can be and encourages me throughout my studies. I have no trouble going to teachers for advice that is not only academic or musically based, but also spiritually."  
~ Sophomore Student
"We believe the academic success of Freeman Academy's  1st–3rd program is one of its best kept secrets.  Teachers don't teach 'a' subject or 'a' method.  Their thorough understanding of the educational process allows them to explore and to adapt their teaching to meet the needs of individual students. A blend of traditional instruction and project-based learning gives students a superior academic foundation. We see it in the STAR testing which places students consistently way beyond their grade level."                 
~ Parents with two children in the 1st – 3rd program
"I really feel at home at the Academy and I have so much fun in musical and theatrical activities.  Since I've started coming here, I actually look forward to school each morning."   
"Countless times, I have been impressed at how well the teachers have been attentive and responsive to my children – not just their academic styles, but their preferences, their emotional needs and their behavioral mannerisms.  They truly seek to develop the whole child." 
~ 
Elementary Parent
"Time and again, over the last 15+ years, we have witnessed the safety of the FA environment – teachers empowering students to come out of their shells and bloom to their full potential."             
~ Parent of three Freeman Academy students
"As the parents of several recent grads, we appreciate many aspects of the school: small class size, caring teachers, family atmosphere, and Christ-centered education that encourages students to pray and to share their faith in class."   
~ 
Parents of Freeman Academy graduates